Like many of you, I have a few ancestors in my family tree that have served our country during WWII, and are a great source of pride to our families, as well as our country.  On this day though, there is one particular ancestor of mine that comes to mind due to his death in Normandy.
My great uncle, James Murray was born In Brooklyn, New York, in 1919.  He can clearly be found as 7 months of age in the 1920 census, the youngest of 6, and the first male child of his parents that would live past infancy.  You can find the family again in the same Red Hook apartment in 1930, this time with a younger brother (my Grandfather) and sister.
Sometimes I think about these 2 brothers, both serving their country. One that lived until old age, and the other taken way too soon.  I think about the fact that, as I do some quick math, there are no less then 50 of us descended from my Grandfather, and 0 from his brother.  A young Brooklyn Kid of 23 years when he joined the Army in 1942, PFC. James J. Murray, as he would become, never had a chance to begin a family.
According to military records, my great-uncle enlisted at Camp Upton, in Yaphank New York, on February 19th 1942.  The next 7 months are a mystery, but I know that his unit, the 508th P.I.R (Parachute Infantry Regiment) was founded at Fort Blanding Georgia in October, 1942 and they spent the next 14 month conducting Airborne Training there, and at Camp Mackall, North Carolina.  After a short 2-day liberty pass to visit family while in New York, the unit was called to action on Christmas Day, 1943, and the unit soon sailed from New York, to Belfast, then Glasgow en route to Wollaton Park, England.  It was there that they waited almost 3 months until June 6th. Shortly after 2am they participated in "Operation Overlord" and jumped at 300 feet into Normandy with the objective of capturing Sainte-Mère-Église, as well as securing several river crossings in the area.
Unfortunately, this is where the mystery begins again. As most know, the airborne operation, although eventually successful, was a complete disaster. Many of the paratroopers never lived to see their feet hit the ground. Some landed and drowned in the rivers, some became hung up in trees or on the sides of buildings, and some were shot dead while waiting in line to jump from their plane. Of those that did manage to land safely, almost none were where they were supposed to land, and even fewer landed with their own unit. Because of this, and without a first hand account of his whereabouts, it makes it difficult to know what James Murray would have been doing until his death 10 days later on June 16th. I do know that his company, F (Foxtrot) Company, 508th P.I.R, was on a mission to secure the entire peninsula west of the beachheads. On June 16th the unit was in the small town of Saint-Sauveur-le-Vicomte, and on that day, he died. The record from a 508th PIR website shows us that James J Murray was indeed a member of F Company, and was in fact "Killed in Action" on June 16th.
But as we often find in genealogy research we do not know for sure the circumstances surrounding his death. All we can do is assume that he was with his assigned unit and in action the day he died. The K.I.A classification lets us know that he was alive and fighting on that day, and then died as a result of enemy action, as opposed to dying from wounds or injuries that would have occurred at an earlier time. This, combined with the information on his units maneuvers on that day give us a probable scenario surrounding his death. He was probably somewhere around Saint-Sauveur-le-Vicomte with F Company, 508th PIR on June 16th, and died as a result on gun fire or an explosion. Until the time in my life comes when I can dedicate some real time into finding better information, these details will have to be enough.
Photo Mystery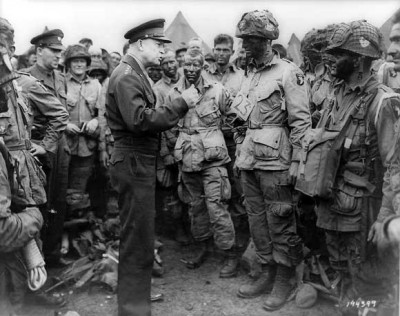 You've seen this famous photo of General Eisenhowser speaking to troops on the Eve of D-Day, in England. A few years ago I heard of the family tale that James Murray is actually in this photo. He is claimed to be the man in the center of the page, his head right above Ike's hand. This is the type of thing I would be thrilled about, but a quick bit of investigative work raises some doubts. We already know that my Great-uncle was killed on June 16th and was a member of F Co. 508th PIR, which was part of the 82nd Airborne Division. The unit in this photograph is E Co, 502nd PIR, part of the 101st Airborne Divison. I can not see a scenario that has him changing units between June 5th and June 16th, when they obviously had much bigger things to worry about then transfer orders. Also, the soldier has stripes on his left arm indicating he was higher rank then the "PFC" that James Murray was. I don't know where this rumor came came originally, but at first glance, it appears to be untrue.
After Normandy
A mention in "The New York Sun" tells me that my grandfather returned to New York aboard the "Aquitanina" from Europe in September of 1945. I don't know when he learned of his brothers death, but that was not the only death of a close relative he had to deal with. In fact, his mother passed away in September of 1944, and then right after Christmas, her father, died at age 84. They all lived a few blocks apart in that same Brooklyn neighborhood. These 3 deaths combined with the horrors of fighting the Nazi's must have made this 18 months of his life incredibly traumatic.
Many people have experienced time at war, and everybody will suffer the loss of loved ones, but I think few will ever have to endure what my grandfather did between 1944 and 1945.
I will spend the next 10 days the way I always spend June 6th – 16th. Using my genealogy time towards investigating my Great-Uncle. Searching for anything new that might have found it's way onto the internet in the attempt to better paint a picture of his last days on earth. RIP PFC Murray.