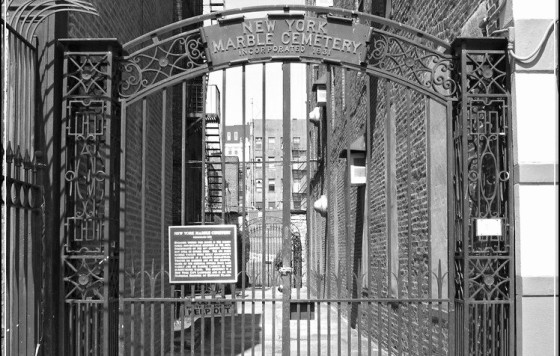 New York's Marble Cemetery is one of the only Cemeteries on the island of Manhattan.
This cemetery is often confused with The New York City Marble Cemetery
New York's historic Marble Cemetery was founded in 1831.
Visit Marble Cemetery
Located in the East Village, the entrance to the Marble Cemetery is through an alley way located at 43 2nd Ave.
The cemetery is open one day a month during the spring – fall months. For access or tour information, send a message to tours@marblecemetery.org
Write Marble Cemetery for information on your ancestors grave.
genealogy@marblecemetery.org
New York Marble Cemetery, Inc.
10375 Mackall Road
St. Leonard MD 20685-2490
You can locate the cemetery your ancestor is buried in from their Death Certificate. Contact our genealogist if you have decided you need our help, or if you just don't want to waste time trying to put all the pieces together.
Return to New York Cemeteries