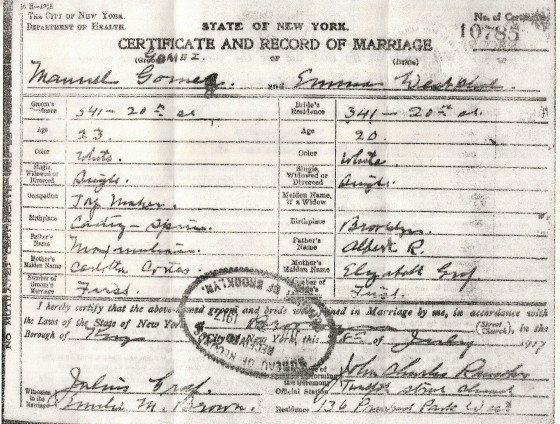 Benefits of Marriage Certificates
Sometimes when you are building a family tree, certain information is not readily available, and the perfect place to find much of this information is in New York Marriage Records. Three different Maiden names, addresses and specific birth locations of both bride and groom. Sometimes this information can not be found on either U.S or State Census reports, newspaper articles, or any other documents that proves easy to view online.
Finding New York Vital Records
The hard part of the process is finding the exact date, location and the certificate number that is necessary to order a certificate from the New York City Department of Vital Records. Unless you have the time to learn all the in's and out's of the genealogy database's available, hiring a Genealogist is certainly your best option.
Guarantee Of Results
We do not do business the same way as other genealogy websites here at BrooklynAncestry.com when It comes to ordering these marriage records. In most cases, we will be able to locate the record and have all the information ready to place the order with the Department of Vital Records, before you pay us.
We can order Marriage certificates up until the year 1929, Birth certificates prior to 1910, and Death certificates prior to 1949. Contact us now with your families details to get started.
On Site Databases
Italian Records
Although not in New York, this addition page in includes years of Birth and Marriage records from the City of Palermo on our Italian Genealogy page that many New Yorkers will find very useful.