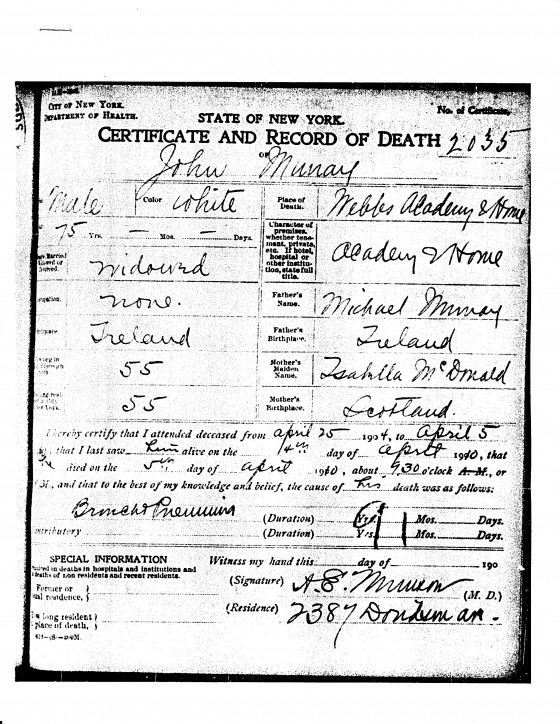 New York Death Certificate
It is important for anybody building their family tree to understand the importance of the information contained on the typical New York Death Certificate, as pictured above. In so many cases it is necessary to order the Death certificate to take that generational leap back further into history. We have already talked about ordering Marriage Certificates, but in cases like the one above we have a man who died in 1910, and Married some 55 years earlier, making his marriage certificate inifately more difficult to locate. Not to mention that the older a document is, the more likely it is to be unreadable, and it is less likely to include specific details like a mothers maiden, or the city of birth in a foreign country. Not shown in the image above is the flip side of the document, which lists the Cemetery of burial, which can be the greatest source for a breakthrough of all.
Cemetery Records
Online searches can only get you so far in some cases. Once you have a grave site, you have the potential to solve a whole lot of family mysteries in a few minutes. Using our John Murray example above, if he had daughters that you could locate, there may well be someone with an unfamiliar last name in the grave, with a matching first name and the correct age of that daughter. When you find a lady about his age you may have found his wife, and maybe you will find his parents. It is not too uncommon to have up to 3 generations and 10 different people buried in a plot over the course of 100 years.
Ordering NY Vital Records
As I have mentioned in other blog posts, we at BrooklynAncestry.com can provide you with the death certificate number (located top right corner of document) and place the order for you, risk free. Provide us with the information you have, and we will ensure we can locate the record and place an order with the New York Department of Vital Records before asking you for payment.
We can order Marriage certificates up until the year 1929, Birth certificates prior to 1910, and Death certificates prior to 1949. Contact us now with your families details to get started.